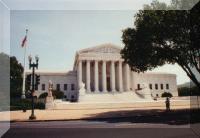 The Supreme Court shown above,
is located in Washington D.C.
There are a few Web Sites that shold be visited by anyone intersdted in Supreme Court Building!
Photo's of the Supreme Court
Information on Visiting
Are Provided on The Supreme Court Official Web Site
Journey Throught Time
is Couttv's 5 star Site packed with information on the Court building and the History of the Court!
Great Buildigns on Line
Great Buildings has outstanding information on The Supreme Court Building and architect Cass Gilbert!
A good History
of the Supreme Court Building can be found on Usscplu.com
A Map Tour
of The Supreme Court and other famous Washington DC locations can be viewed on the ameslab government Site
View My Guestbook
Sign My Guestbook
Page By Retired Esquire
Copyright©2000